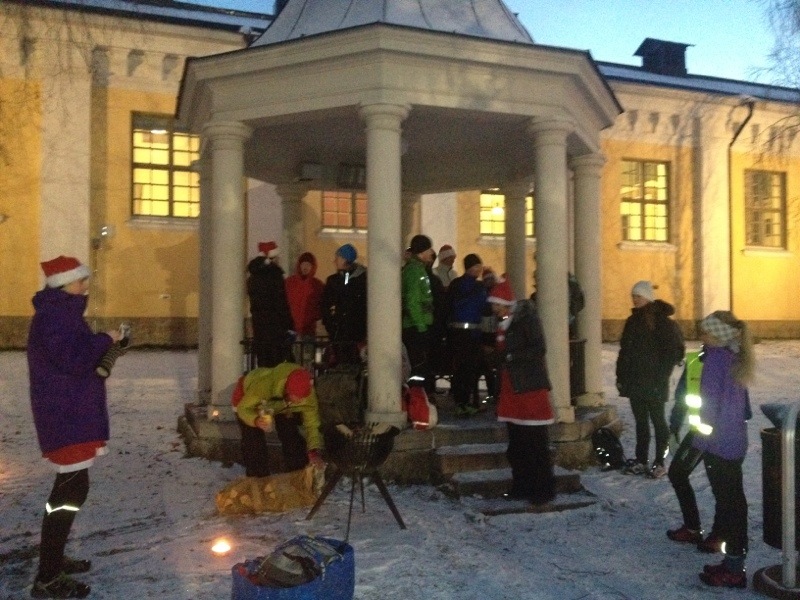 Vilken härlig dag. Alltså VILKEN härlig dag. Eller vad tusan, härlig resa!! Bara gårdagen med möte, reflexbana och fredagsmys med Svante och Maria och så dagens alla upptåg och vänner och nyfunna vänner. Och löparmil. Haha. Living the dream :-)
Packad och påbylsad till tänderna. En expidition i svalbardskyla räknade jag med, och klädde mig därefter. Riktigt varmt underställ, dubbla mellanlager och en jacka på det. Varmaste löparvantarna på marknaden, pannband, tomteluva och ett slags värmande halsskydd. Jag var redo för -11 grader och marathon!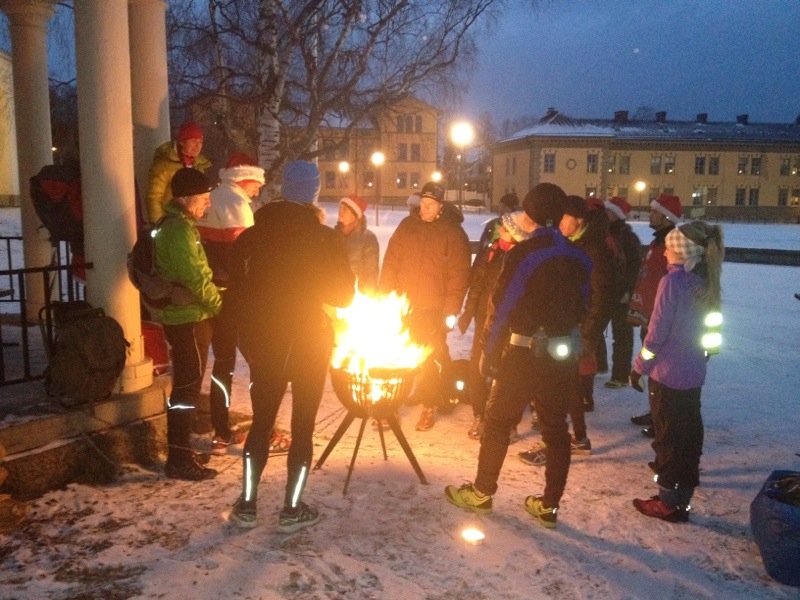 Mysstämning och härligaste grymmaste brudarna Hanna, Christine och Federica som hade fixat med Adventståget. För några månader sedan mailade Hanna mig om Adventståget och berättade om hur de blivit inspirerade av Tomtetåget och ville göra något eget. Hanna har läst bloggen de senaste åren, och jag blev ju bara glad att man inspirerat någon. "Kör hårt, och glömt inte att skicka inbjudan" ;) Och det var innan jag blev Jämtlandsfrälst. Jag kunde knappt var Östersund var på kartan… haha SÅ DET KAN GÅ.
Och slumpen svängde till och här stod jag. Efter att ha råkat på medarrangör Christine i ett helt annat sammanhang, och blivit uppraggad av massa kompisar här uppifrån.. fantastiskt vad jag älskar slumpen!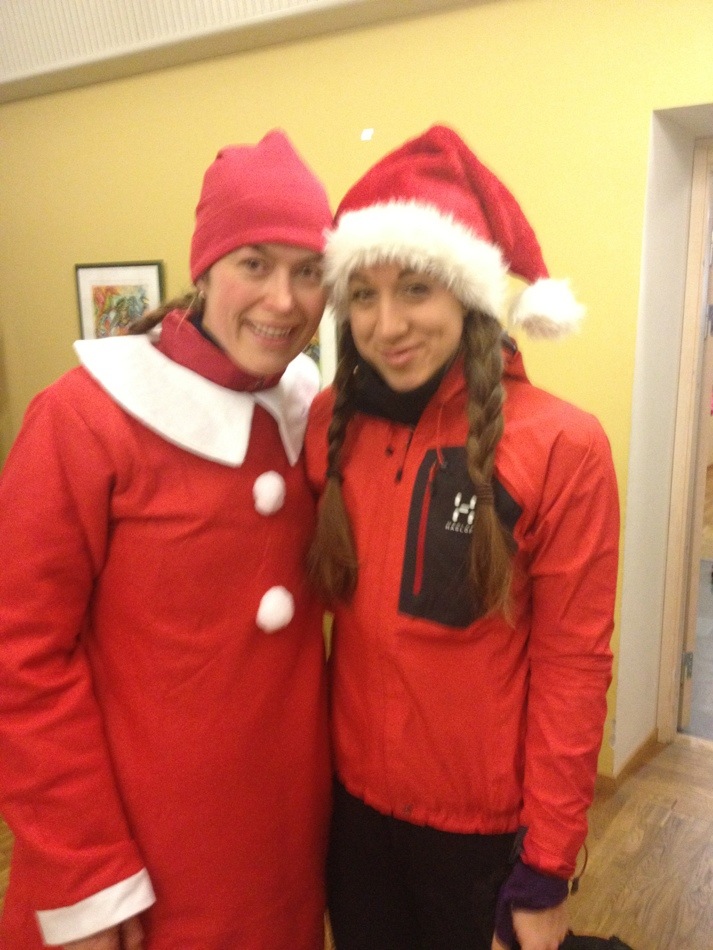 Uppe: Glada Chrustine och Mirre. Nere: Hanna och Federica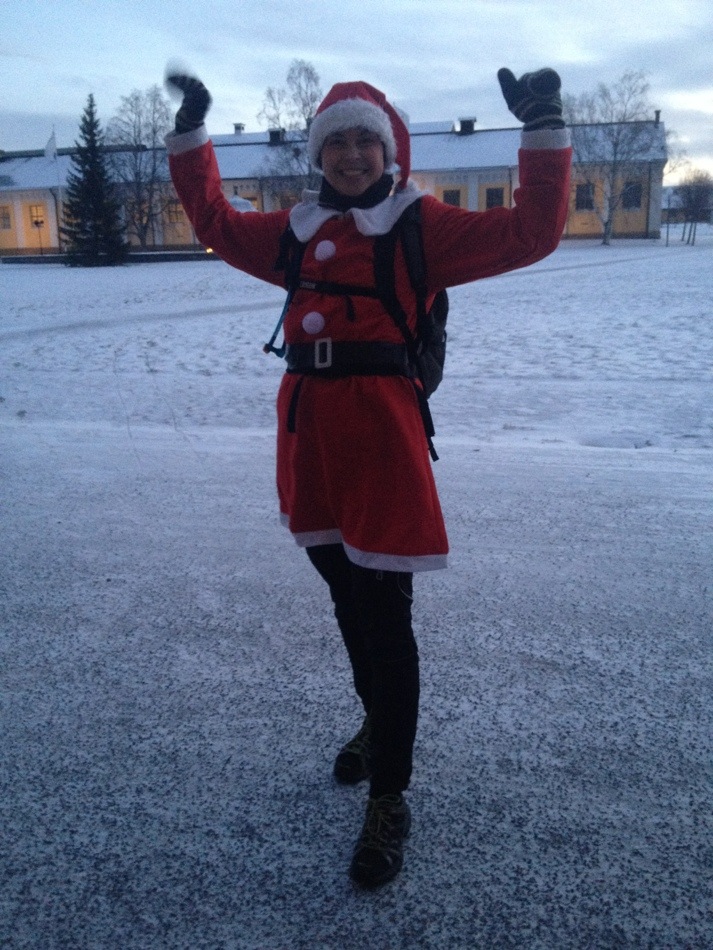 Löpargruppen bar iväg i vackra tomteoutfits. Så söta va? Man längtar ju definitivt mer efter Tomtetåget nu. Blev riktigt laddad!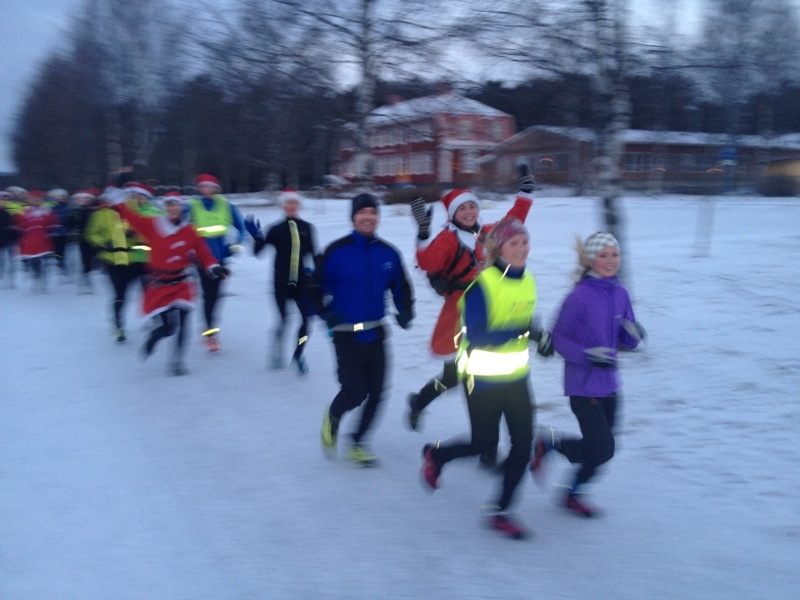 Som vanligt rullar kilometer bort i godan ro med härliga nya människor att lära känna. Pratade på, insåg att camelbacken var isfylld inom loppet av två sekunder, och sedan var första energistationen efter 16km.
Den 50lappen arrangemanget kostade per person åt jag väl upp i kladdkaka direkt. Hehe. Om man ska tänka så.. men alltså. Skoja inte, vilken MAGISKT GOD KLADDKAKA! Fanns även varmt vatten, blåbärssoppa och te. Vi blev bortskämda!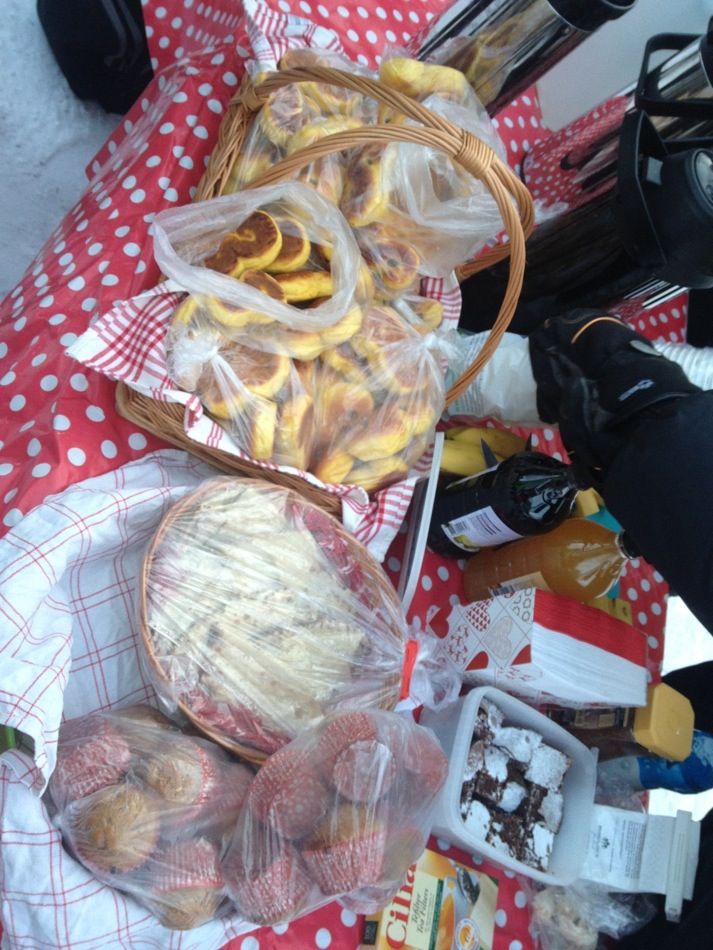 Turen gick runt Storsjön och det var vackert. Led inte alls av kylan, utan blev bara lite kall vid stoppen. I övrigt hur jäkla GÖTT som helst kände jag. Benen rullade på fint, och jag hade alldeles trevligt med alla samtal.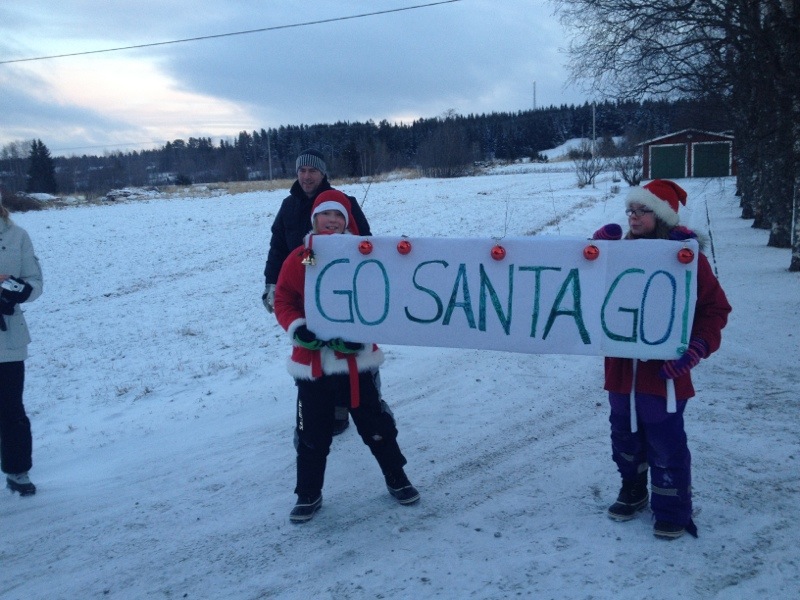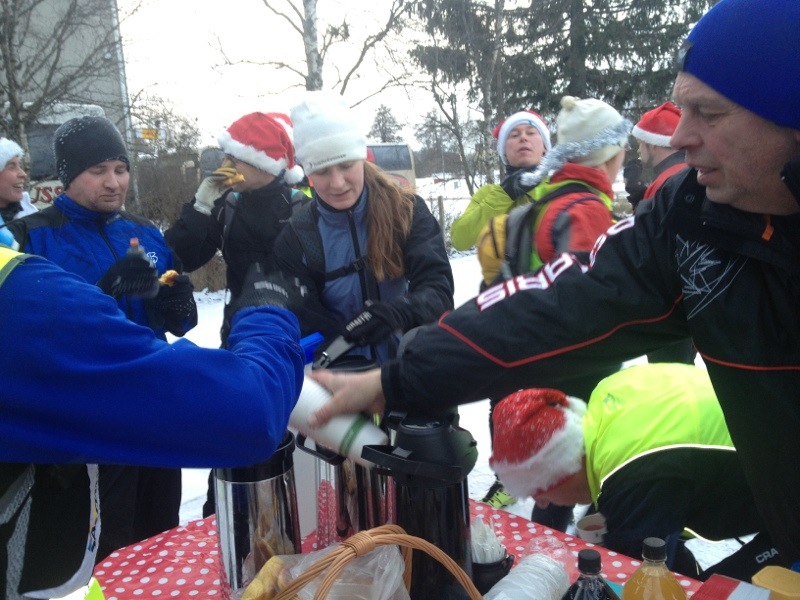 Framåt framåt gick det med fler energistopp (vid 26 och 34km tror jag), publik längst med vägen och härliga pigga ben. Vid 35km gick jag igång på riktigt och hade kunnat fortsätta resten av dagen. Man bara MÅSTE gilla läget när kroppen bär en framåt så enkelt.
Och snart närmade vi oss det STLUTGILTIGA målet. Några gjorde sina första maror, så stämningen var fantastiskt trevlig. Vi kom leende fram till målet, och film från målgången kan man hitta här där ÖIP skrev om oss idag.
STORT LEENDE på Mirre.
Ibland är det för kul vilka grejer som råkar komma i min väg ändå ;)
Avslutades med fortsatt kakbuffe, men även salami och parmesanost som Federicas företag ParmaSalami sponsrade. Haha, det blir inte bättre, lite italienskt också ju. Vet inte hur mycket salami jag åt idag, men jag tror jag levde på salami och kladdkaka. Smaskigt!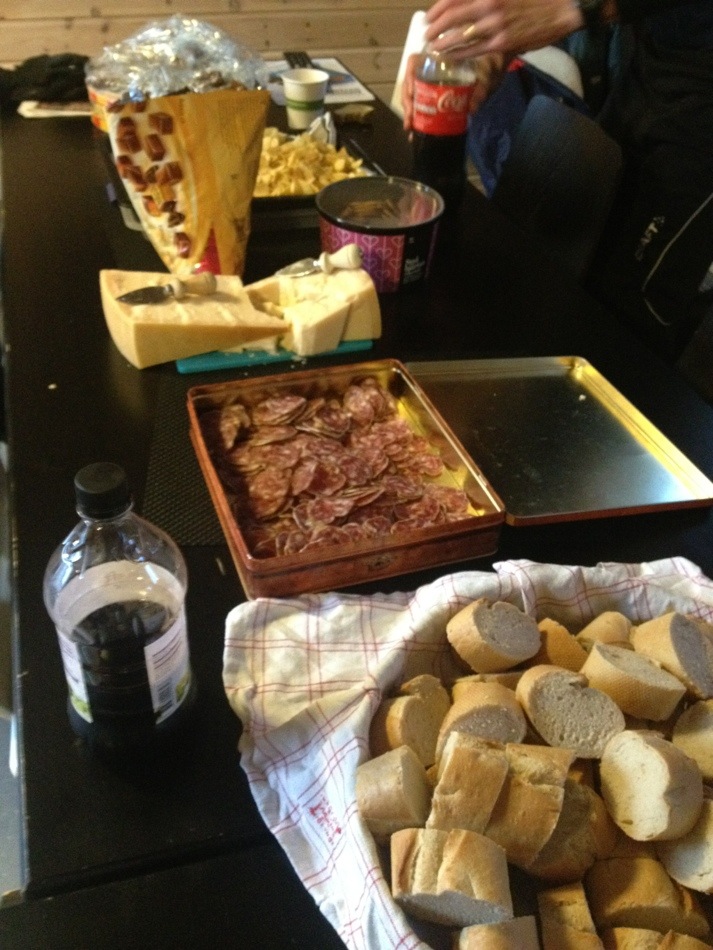 Avslutades på ypperligt vis med bastu och utsikt över Storsjön.
Ja, mina vänner, this is life…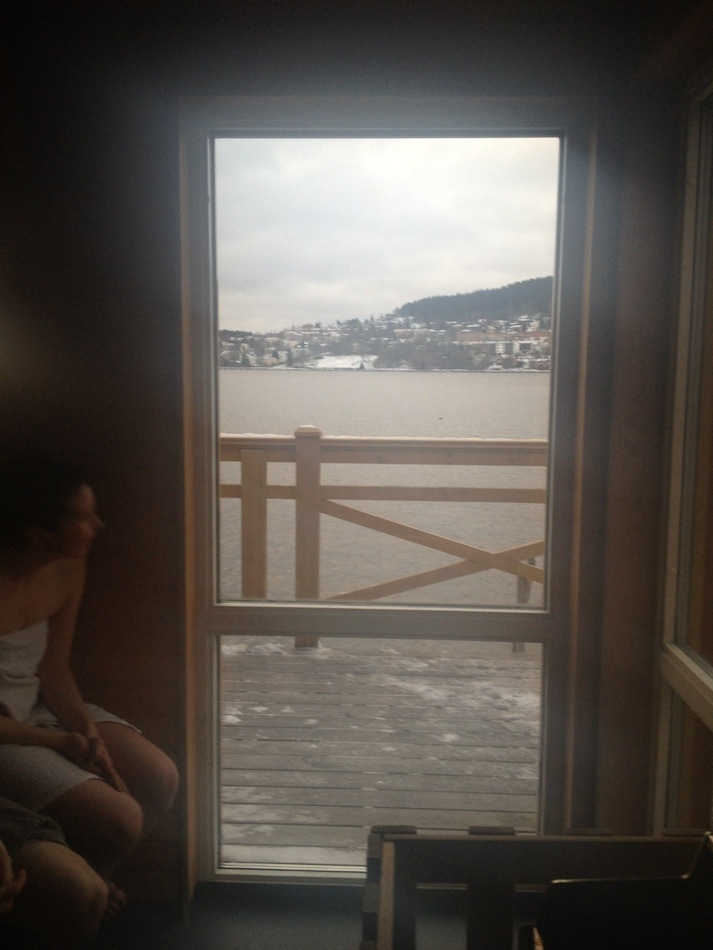 STORT TACK TILL CHRISTINE, HANNA OCH FEDERICA för att man fick hänga på och leka idag, och till er andra som gjorde det så skojigt!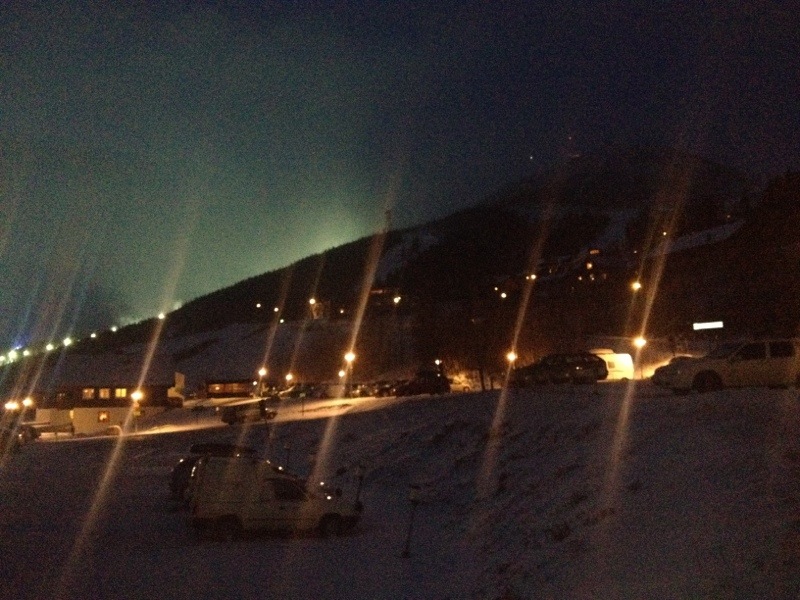 Därefter var det Mari som fick barnvakta mig när hon hämtade upp mig och vi drog vidare mot Åre. Fantastiska kvinnan jag lärde känna under Jämtlandstriangeln iår. De 10 milen blåste förbi när vi pratade loss. Vilka vänner man skaffat sig häruppe ju :)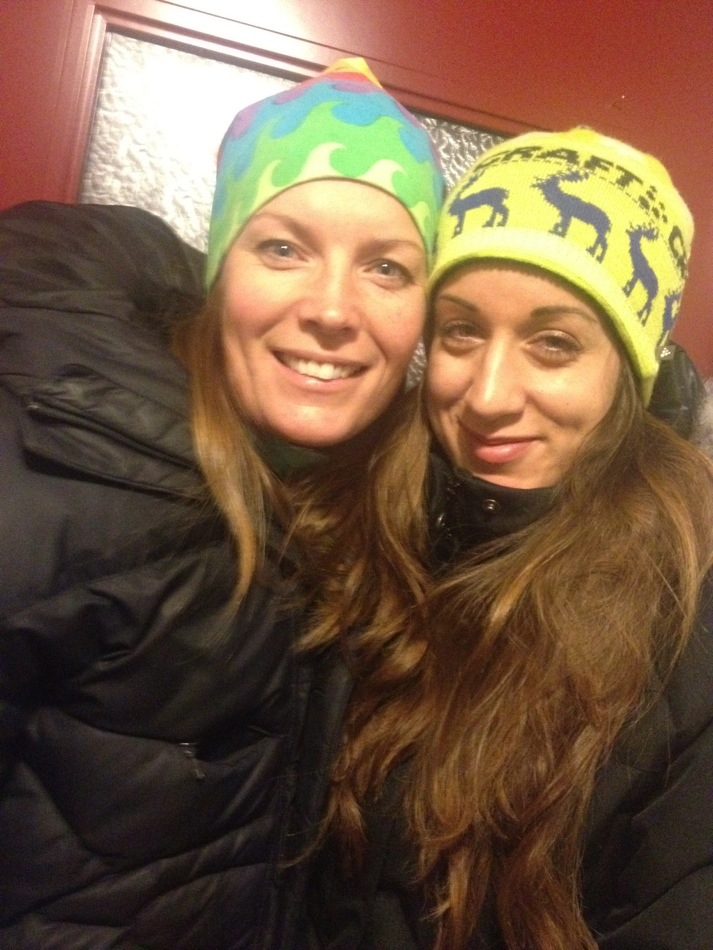 Sedan rullade vi hemåt till Mr Ahlström the one and only creator of Åre Xtreme Challenge och polare. Med kaffe i hand blåste 2h bort pratandes och därefter ytterligare timmar på Broken. Maten smakade ju ypperligt. Erik ska köra en föreläsning om sin karriär här på måndag. Mannen är ju världens coolaste med 20 år i arrangörsbranschen och skapat BAMM, ÅEC, C2 och driver Salomon Trail tour osv. Åhhhh.. ge mig bara 20 år jag med, då jäklar :) :)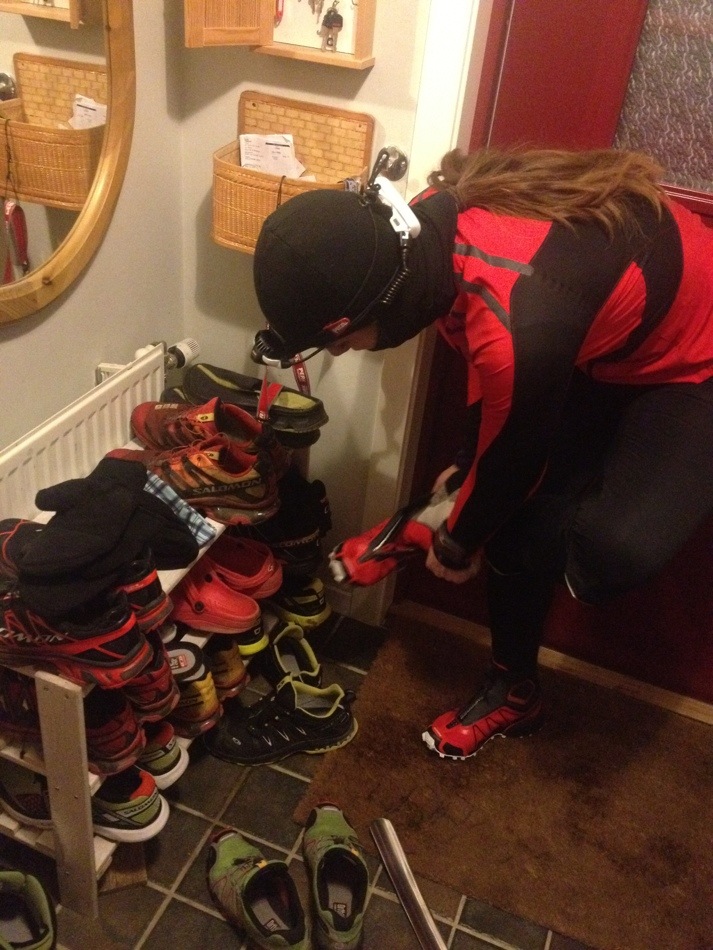 Erik som suttit inne hela dagen föreslog pannlamperunda och jag var inte sen att hänka på!! Vadå, en liten nerjogg :D Såg framför mig härligt äventyr i snön, och det blev det ju!
Med en ny mundering massa kläder (fortsatt -11 grader) så plockade vi på oss pannlamporna och gav oss iväg.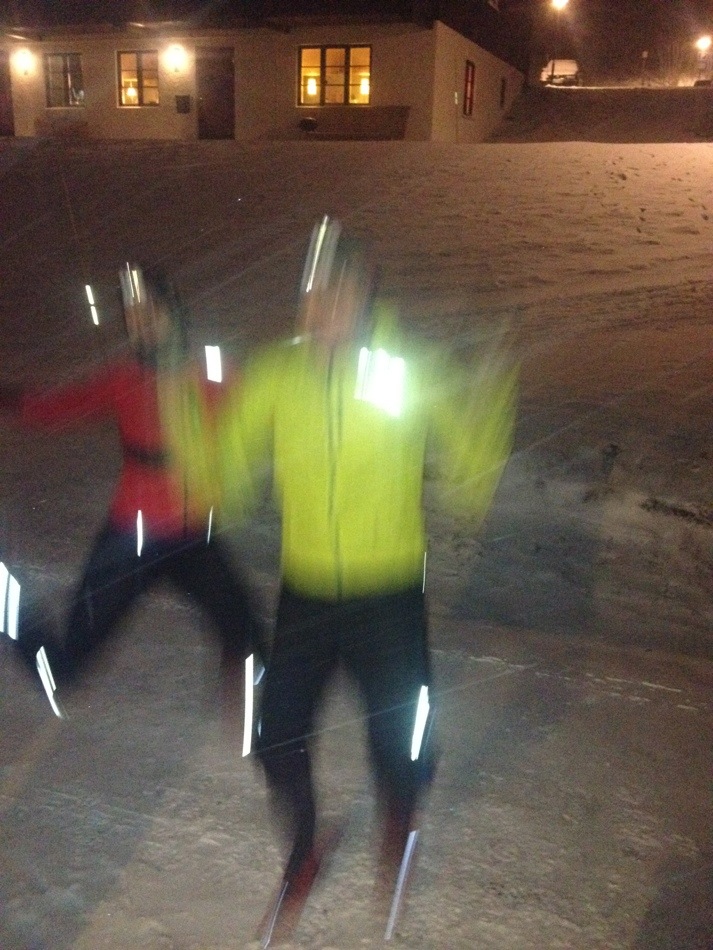 Haha, här ser det ut som att vi dansade :D
Upp mot terrängen kring Björnen. Benen rullade på finfint och hade helt glömt bort att den rullade ett marathon i förmiddags. Tills diverse backar, okej, då fick jag ta några gåsteg hehe. Men i övrigt hur lugnt som helst, det var ju så MAGISKT att springa i snön!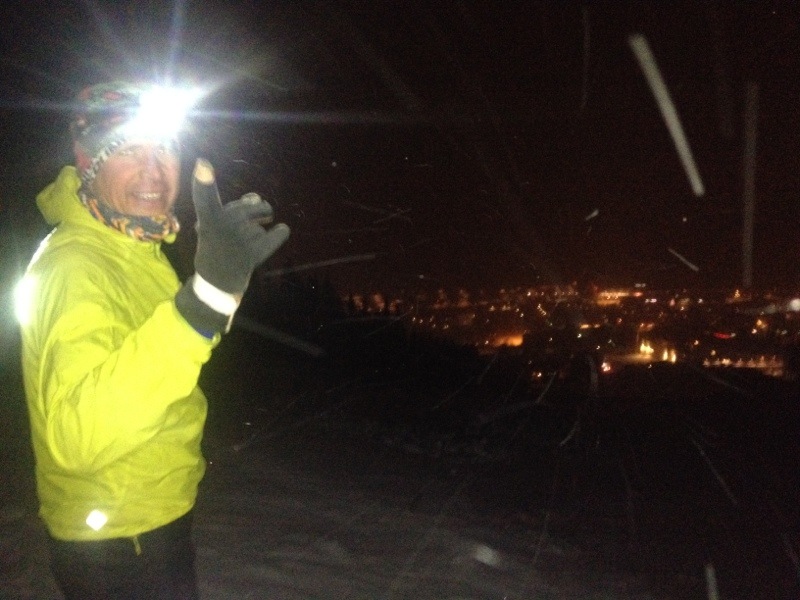 Snowcrossarna på fötterna när vi pulsade framåt. Snön föll vackert i pannlampans scen och jag kände mig lyckligt lottad över alla saker jag går göra och uppleva. Skogen var vacker, så vacker, och kylan var alldeles behaglig. Jag bara myste och njöt.
Vi rullade runt en bra stund när jag lät Ahlström bestämma bana. Upp och ner, och hit och dit och runt och skidbacke, och skog och stock och sten och skidbacke osv.. Hur kul som helst. Konstant tjatter också förstås, man kan ju inte sluta prata om löprelaterade roligheter i trailen ;)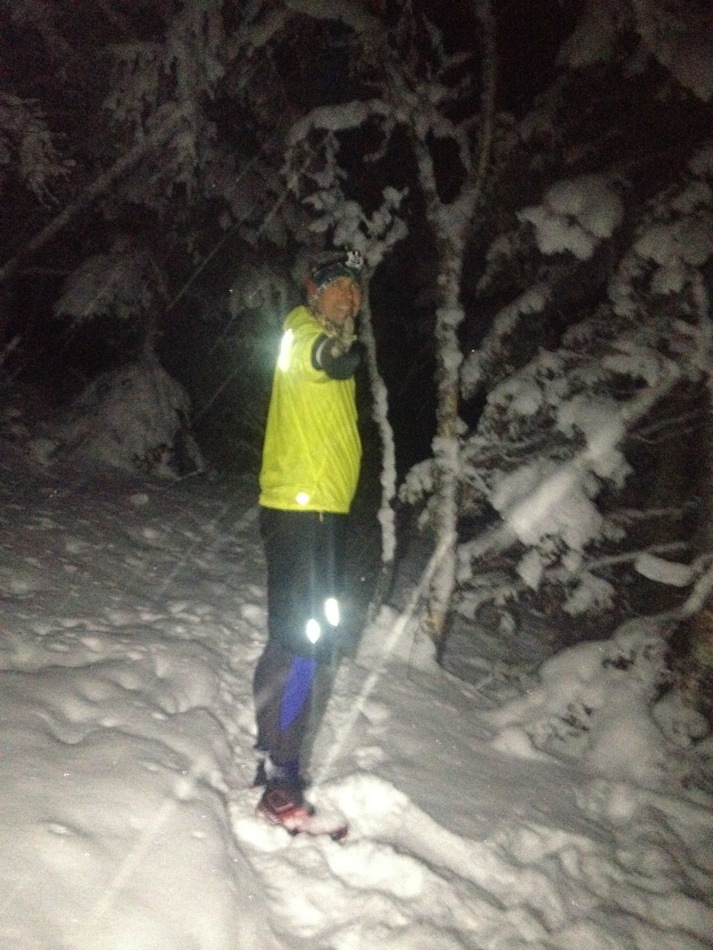 Lyckliga anlände vi till huset vi 23-tiden, sent hade det blivit. Lördagsmys som INTE är framför tvn. 90min snö i skogen hade passerat alldeles för behagligt och dagens ca 55km totalt har varit en lyckodans.
Måste bara gilla detta… fasiken. Det är verkligen i Jämtland det händer!!! Jag inser det ju mer och mer och mer och mer…. Värsta leklandet verkligen.
Lycka det är allt jag känner.
Och tacksamhet. Till kropp och vänner.
Tack och GOD NATT!!! ;)
Adventslöpning och pannlampelönpning = sant